Once upon a time, just a few months ago, I decided I wanted to get into cycling. So I bought an old but solid road bike. Bluie and I went from West Jordan to the Bingham Copper mines, the Salt Lake Temple, and to work every day. Beau wanted to join the fun, so we got him an even older and less solid bike for way cheap on KSL and great fun was had. We got a little carried away at the REI tent sale and got ourselves bike shorts, cycle shoes, and other accessories to make us feel more legit.
But of course, we started itching for newer, nicer bikes, and after scouring KSL with much patience (not really) we both upgraded. So, for a week or so we owned 4 road bikes while we were in the process of selling Bluie and Goldie. Both old bikes went to a nice couple who was a few months behind us and were just getting in to cycling as well and wanted something to get around with.
So to really feel initiated in the cycling scene, we did our first cycling race yesterday!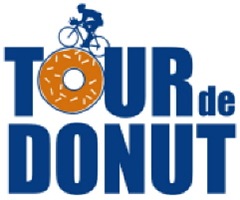 www.utahtourdedonut.org
The Tour de Donut is a 3 laps at 7 miles each race where contestants can eat as many donuts as they want between laps 1&2 and 2&3. Each donut consumed takes three minutes off your total time.
Just before the start. This pictures also shows the cute argyle jersey I was envying.
As you can probably guess, I didn't eat any donuts but Beau enjoyed 6 total. The race was SO fun and we can't wait to do another. I beat Beau by a few minutes, but that's just because he stopped to eat. :)
I didn't realize my face got so red in the heat...
Update: After checking the results, Beau placed 15th in his age group and I placed 12th. Note that these are ranked by net time, including the donut consumption. The winner ate 25 donuts for a net time of 13 seconds.
These guys decided to dress up?
Oh, and as promised, the table I painted!
This was our kitchen table that was left for us in our Provo apartment. It was a plain basic table from Ikea, and I had visions of painting it. So we took it with us to West Jordan, and now we have a colorful computer desk. I went to Home Depot and picked out 5 pretty colors without really matching them together, and started putting down painting tape at varying widths and no particular order of color. It was fun. and took a long time.
Stay tuned for more adventures from the Dickson-Parks union.